About PayPal®
Meridian Maps utilises PayPal® as our online transaction system. PayPal, an eBay company, is the global leader in online payment solutions with more than 63 million account members worldwide. PayPal operates in 45 countries and supports 5 currencies – Euros, US Dollars, Pounds Sterling, Australian Dollars, Canadian Dollars and Japanese Yen. PayPal enables anyone with an email address to easily send and receive secure payments online. Fast, safe and easy, PayPal's third party system is the ideal solution for online transactions.
Security & Privacy
PayPal protects your financial information with industry-leading security and fraud prevention systems. When you use PayPal, your credit card number and financial information is not shared with the merchant. Once your payment is complete, you are emailed a receipt for your transaction.
Join PayPal®
To enable purchasing you need to have a Paypal® Account. If you don't already have one you can create your account online whilst making your purchase. Just follow the onscreen prompts. There is no joining fee and the process takes a couple of minutes. Once registered you can use your Paypal account for future Meridian purchases as well as transactions with any other PayPal merchants. Go to www.paypal.com to sign up.
Other Payment Methods
Meridian Maps accepts direct debit to our bank account during the purchase process.
Meridian maps does not accept cheques or credit cards over the phone.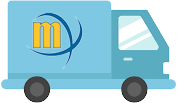 Handling & Freight
Australia Wide Delivery
We will pack and freight your order Australia wide. Delivery is 2-3 working days from date of order.
Postage is determined by weight and Australia Post rates.
Overseas Deliveries
If you wish to have your order shipped to an overseas destination please contact us for our overseas shipping rates.